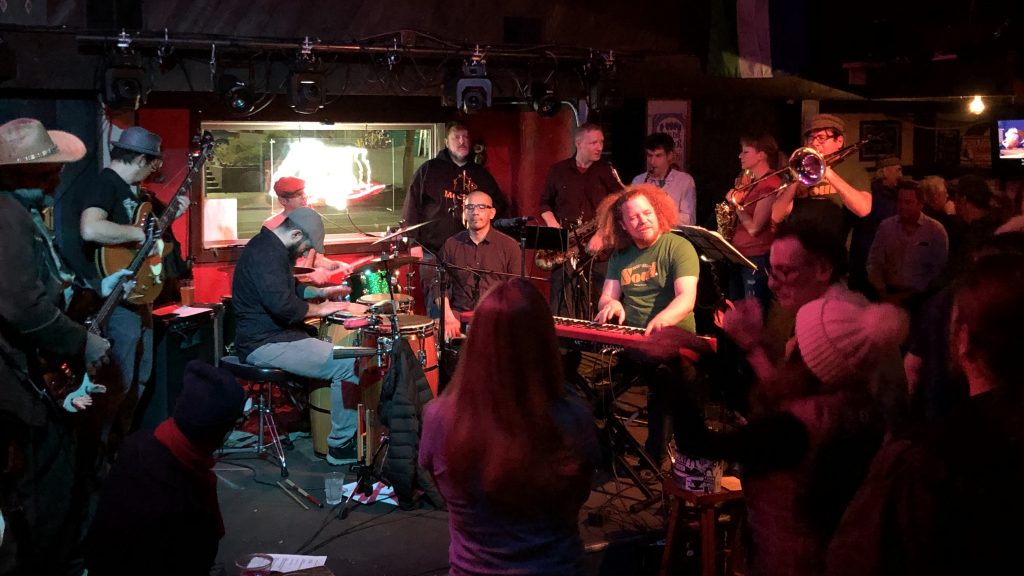 West Seattle Soul featuring The Pulsations brings together over a dozen talented players to share classic RARE FUNK GROOVES and unique originals with an enthusiastic audience.  The brainchild of long-time West Seattleite, drummer, and arranger Ollie Klomp, The Pulsations feature a 5+ piece horn line, a phenomenal rhythm section, MC Maurice Caldwell, Jr., and a rotating cast of special guests.
West Seattle Soul holds court First Thursday's each month at Parliament Tavern (4210 SW Admiral Way) and The Pulsations are available for special engagements.  Here's a Retrospective on 2019's shows… enjoy!
January 2020 saw The Pulsations/West Seattle Soul's first 7″ vinyl release.  Fan favorite "Soul Makossa" (by Afro-funk pioneer Manu Dibango) and Pulsations original "Black River" are now out on Color Red, streaming on most platforms and the vinyl is available at retailers and by online order.  Check 'em out here:
https://www.color-red.co/the-pulsations
https://www.color-red.co/west-seattle-soul-soul-makossa
SOUL MAKOSSA REMIX!
Color Red linked up Madrid's Midtown Collective – Salvatore and Deff Ventura – with West Seattle Soul's take on SOUL MAKOSSA and the remix dropped in September, 2020.  "Drawing from the organic iterations of House music, they have transformed a new version of the classic "Soul Makossa" by afrobeat newcomers West Seattle Soul into a relentless, synth-heavy Afro-NuDisco that will shake any dancefloor."
Color Red Catalog
---
West Seattle Soul wants to share the stories, the legends, and the history of the music, for it's all tied to what came before…so each week we'll leave you with a set list to explore these founders of FUNK and other sonic explorers from home and abroad.
---
A few from the archive….
traps/creative director • olli klomp
bass • tige decoster
percussion • lalo bello, karl olson
guitar • bill wolford, chris o'connor
keys • kent halvorsen
trombone • jimmy austin
trumpet • mike "moose" barber
bari sax • kate olson, peter daniel
tenor sax • kevin nortness
alto sax • marc fendel, peter daniel
vox • maurice caldwell, jr.

Guests have included Christa Wells (vox), Melissa Montalto (vox), Chris Poage (alto/bari saxes), Gordon Brown (tenor sax), Jessica Lurie (alto sax), Jason Cressey (trombone), Jerome Smith (trombone), Samantha Boshnack (trumpet), Bill Jones (trumpet), Dave Faigin (percussion), Ivan Galvez (percussion), Tor Dietrichson (percussion), Bill Ray (drums), Marc Hager (keys), Michael Leone (guitar), Jimmy James (guitar), Kathy Moore (guitar) and YOU!
#WestSeattleSoul   #RareFunkGrooves    #ThePulsations    #digitwhileitshappening   #seattlemusic   #wessidemusic