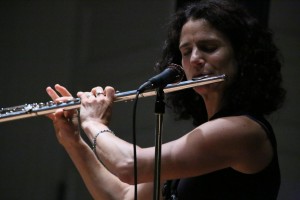 flute / saxophones / clarinet / voice • composer / orchestrator / teaching artist
Seattle and Brooklyn-based Jessica Lurie is one of the elite artists to come out of the Seattle 1990's explosion of jazz and improvisational music.  An award-winning multi-instrumentalist, composer, and improviser, Lurie performs on saxophones, flute, accordion, electronics and voice.  Influenced by her parents' love of music – classical, jazz, Broadway and Americana – and Seattle's diverse and divergent music community, she calls on a wide range of musical influences from around the globe.  Known for "melding lyrical pop, stinging rock, rhythmic Eastern European folk music and improvisation-heavy jazz with a dose of free-wheeling avant-groove-meets-grind" (Dan Oulette), she has performed at festivals, concert halls, universities, clubs, social centers and workshops across the US, Canada and Europe.  She has also received critical acclaim from Downbeat, eMusic, Jazz Times, All About Jazz and many other significant publications.
(On Lurie's last release, Megaphone Heart) "Multi-instrumentalist Jessica Lurie and her ensemble have put together one hell of a program. Sure enough, it turns out it is chock full of stories. Lurie's piercing flute, warm saxophone and catchy vocals contrast with guitarist Brandon Seabrook's snappy banjo playing, the band driven from behind by drummer Allison Miller's tasteful clobbering."
4 ½ Stars – John Ephland, Downbeat Magazine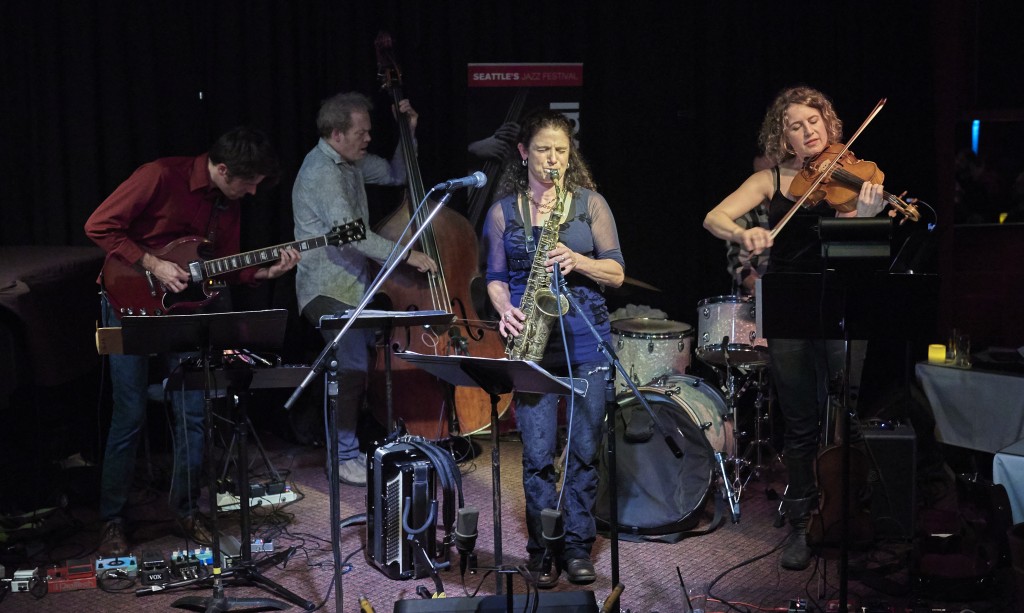 Photos from Lurie's October 25 Instant Light Ensemble performance at Tula's for Earshot Jazz Festival, featuring Bill Horist (guitar), Rene Hart (upright bass), Tarik Abouzied (drums) and special guest Alex Guy (violin).  The name of the group and many of her new compositions are inspired by Polaroids and memoirs by Russian film director Andrei Tarkovsky.
In fact, 2015 was a watershed year for Lurie, with multiple European tours with The Tiptons and as a soloist, ongoing development and groundbreaking performances with Zion80, creative growth with her Ensemble, the founding of Full Fathom Five, and the revitalization of Living Daylights, including multiple sets at High Sierra Music Festival, where she also garnered a "special guest" role, performing with groups ranging from Karl Denson's Tiny Universe and Galactic to the California Honeydrops and the Tony Monaco-Fareed Haque Trio.
A listing of current projects includes:
Bill Horist / Jessica Lurie Duo Project
Sephardic group Sofie Salonika with Katie Down
Experimental Far Cry Flute Quartet
Improvising ensembles:  Slingshot Songs (co-led with Beth Fleenor and Sam Boshnack) and,
Full Fathom Five (+1), featuring Seattle all-stars Skerik, Kate Olson, Naomi Siegel, Evan Flory-Barnes and D'Vonne Lewis.  Recordings of their Royal Room debut are now up on Jessica's Soundcloud!
As a leader, side-person, composer and collaborator, Jessica is featured on over 60 recordings. Collaborations with international artists include: Fred Frith, Billy Martin, Skerik, John Zorn, Cyro Baptista, OU, Todd Sickafoose, David Krakauer, Bill Frisell, Jenny Scheinman, Chris Cochrane, Bill Horist, Robert Dick, Jamie Baum, Joe Doria's McTuff, The Indigo Girls, Mark Ribot, Henry Butler, Eyvind Kang, Karl Denson, Frank London, Allison Miller,  Vinicio Caposella, Nels Cline, Amy Denio, Jacob Fred Jazz Odyssey, Kenny Wolleson, Sleater Kinney, Bernie Worrell and Ivan Neville among others.  She composes for multi-media, dance, theater and film, and has collaborated on over 30 multi-media works with visual artist Danijel Zezelj, theater companies Great Small Works and Circus Amok.
Highlight appearances include the NYC Winter Jazz Fest, Vienna Klezmore Festival, SXSW, Motovun International Film Festival, Athens Babel Arts Festival, Earwing No Jazz, JVC Jazz Festival, CMJ, High Sierra Music Festival, Canadian Music Festival, Bumbershoot International Music Festival and the Seattle Earshot Jazz Festival.
Lurie also consistently teaches music, theory, and improvisational technique, and is available for visiting professor and/or workshop activities at universities and other institutions — both as a soloist and in a band variations.
Website • http://www.jessicalurie.com
Facebook • https://www.facebook.com/jessicaluriemusic
Twitter • ‪@saxophonejess‪ ‬
YouTube • https://www.youtube.com/user/saxophonejess
Audio • https://jessicalurie.bandcamp.com