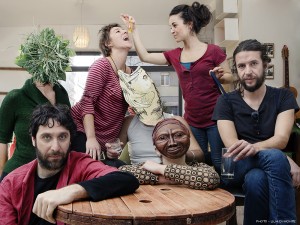 OU brings you a Mediterranean joyride of vivacious original songs by Sardinian composer Ersilia Prosperi: Folk jazz with fiercely funky rhythms ~ topped with lush vocals sung by all 7 in Sardinian, Italian, Spanish, Portuguese and English!
"(singer) Fadda and the band succeed in blurring boundaries between jazz, world music and boldly poetic soundscapes." • katie bull, The New York City Jazz Record — VOX: ESSENCE OF COALESCENCE
(on "SCRAMBLED!") "…from the first listen it reveals a fresco tinged with eccentricity and savage irony, experimentation, improvisation and a rational anarchy of sounds." • Monica Straniero, La Voce di New York — OU, an Egg of Music, from Sardinia to the States

Spring 2018 will bring OU and producer/collaborator Amy Denio together again, with plans to visit the West Coast and beyond, melding folk, rock and jazz, busting genres and blurring boundaries. The band can't wait to return, and we are accepting inquiries as we build their next U.S. tour in May, 2018.
Albums
SCRAMBLED! ~ https://oumusic.bandcamp.com/album/ou-scrambled
Pisces Crisis ~ https://oumusic.bandcamp.com/album/pisces-crisis-2
Produced by world-renowned composer and producer Amy Denio, OU's second album, "SCRAMBLED!" is receiving strong praise across both Europe and the Americas. The album, crafted with Floyd Reitsma at Litho Studios (Pearl Jam's studio) in Seattle, is available on Denio's Spoot Music label in collaboration with Public Eyesore Records.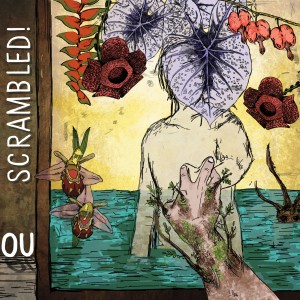 OU and Amy were guests at Seattle's KEXP during one of their 2014 US tours, and performed an In-Studio hosted by Wo' Pop's DJ Darek Mazzone. Thanks KEXP!
B Dahlia Presents was fortunate to work with OU and Denio on two West Coast tours in 2014, and during a performance at Zodiac's in Petaluma, CA, the band was joined by B3 Organ phenom Wil Blades. With the help of cinematographer Joshua Guerci and audio engineer Chris Chappell, we recorded that performance of Paese di Stronzi:

Website • http://oumusic.org
Facebook • https://www.facebook.com/OU-584517934938386/timeline/
Twitter • ‪@OU__music‪
YouTube • https://www.youtube.com/channel/UCulTyb7JxSeW3YljJPIdONA
Photos •
Joshua Tree Music Festival • October, 2014
Seattle's Owl and Thistle. • October, 2014
Arcata Playhouse • June, 2014