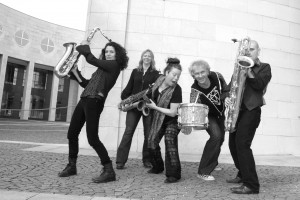 The Tiptons are composed of veteran performers Amy Denio (Kultur Shock, Tone Dogs), Jessica Lurie (Zion80, Living Daylights), Sue Orfield (Ellen Whyte, Sue Orfield Show) and Tina Richerson (Circus Amok, Erin McKeown), and they perform a hard-driving and wide-ranging international jazz, original material that covers genres from micro-big band, gospel and Balkan folk to classic jazz and nocturnal funk.  Originally known as the Billy Tipton Memorial Saxophone Quartet, the group has drawn critical praise and tremendous audience response on both sides of the Atlantic, with successive successful tours across Europe and in the United States for over 20 years.
The Tiptons most recent release, tiny lower case, is available at select retailers, online, and via Bandcamp: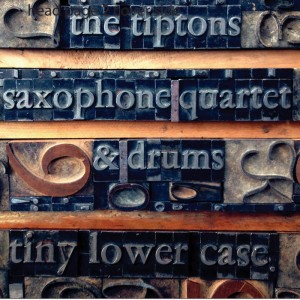 http://tiptonssaxquartet.bandcamp.com/album/tiny-lower-case
Recent US appearances include:  Cornish College of the Arts, Seattle; Chapel Performance Space, Seattle; Freight & Salvage Coffeehouse, Berkeley; Arcata Playhouse, Arcata; Rhythm & Rye, Olympia;  Civic Auditorium, Santa Monica.  Full performance history and archives at http://thetiptonssaxquartet.com/calendar.
The Tiptons were filmed for the groundbreaking documentary film series Icons Among Us: jazz in the present tense.
Their performance of "Number 6" (above) from Seattle's Jewel Box Theater at The Rendezvous, and interviews with Amy Denio and Jessica Lurie, are included in the Icons Among Us: Living Archive: http://iconsamongus.net/content/tiptons
Unique in the Tiptons' performance offerings is the multi-media exhibition Mythunderstandings.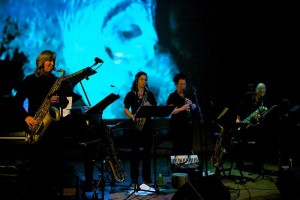 Mythunderstandings is an oral history-driven multi-media performance featuring the Tiptons Sax Quartet breaking out all of their instruments, in collaboration with Coastal Salish story teller and musician Paul 'Che oke ten' Wagner and video artist Adam Sekuler, with Lighting Design by Jordan Sell and
Direction by Lisa Halpern.
Audio of the exhibition at Seattle's Chapel Performance Space:
http://kennedy-williams.net/scoobiesnax/2013/01/mythunderstandings-featuring-the-tiptons-sax-quartet-the-chapel/