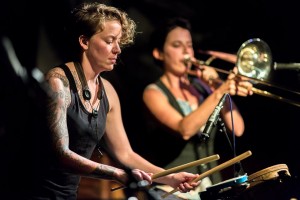 Kate Olson (saxophone) and Naomi Siegel (trombone) are veteran performers who bring their brass and wind talents together with loops, effects and percussion to create dynamic soundscapes and complex stories in the out-jazz folk-punk improvising dynamic duo Syrnix Effect.
"The genius of the music lies… in its conception. Any musician can go get these toys, but Syrinx Effect knows how to use 'em."  — S. VICTOR AARON, SOMETHING ELSE
Website • http://www.syrinxeffect.com
Facebook • https://www.facebook.com/SyrinxEffect
Twitter • @kateplayssax
Audio
Snail Songs ~ https://thesyrinxeffect.bandcamp.com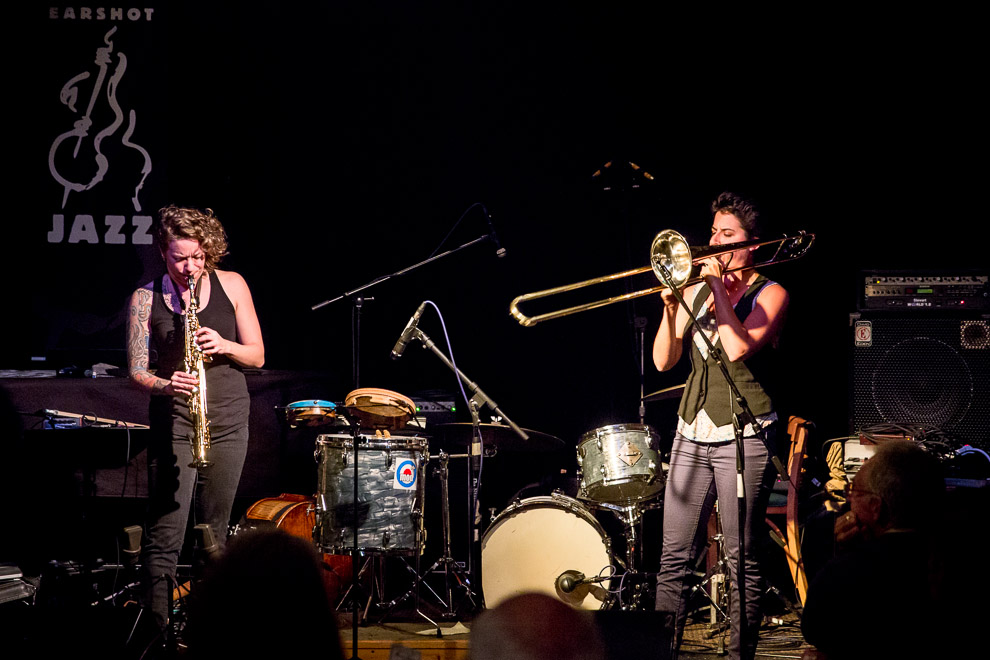 Their fierce improvisation brings the audience in;  they are held by the subtle nuance.
Individually and collectively, Olson and Siegel have collaborated with a host of great players —  Wayne Horvitz, Robin Holcomb, Bobby Previte, Allison Miller, Rene Hart, Stuart Dempster, Elliott Sharp, Living Daylights, Skerik and more — a testament to their musical acumen and passion for excellence.  For Mardi Gras 2015, Syrnix Effect joined Industrial Revelation's Evan Flory-Barnes and D'Vonne Lewis  at Seattle's Nectar Lounge.  Olson and Siegel also work with Flory-Barnes and Lewis, along with Skerik and Jessica Lurie in the Lurie-conceived sextet Full Fathom Five (+1).
The duo submitted this performance of their composition Cameronathon to NPR's Tiny Desk Concert Series:  Enjoy!
The duo submitted this home performance of their composition Cameronathon to NPR's Tiny Desk Concert Series.
Published on Jan 19, 2015
Cameronathon is dedicated in loving memory to Cameron Brownfield